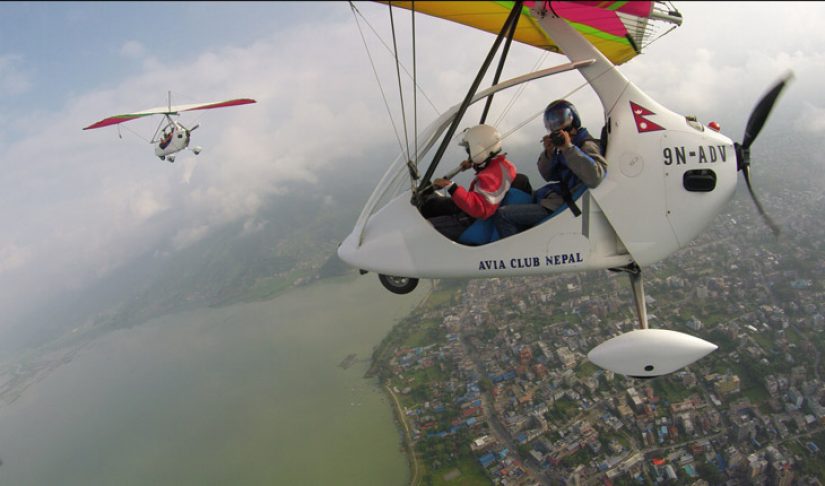 Trip Facts
Group Size
+2 People above
Trip Grade
Moderate
Max. Elevation
5500M
Trip Overview of Ultra Light Aircraft in Nepal
The best destination for Ultra Light Aircraft in Nepal is Pokhara where you will get to view many mountains. Ultra-Light Aircraft in Nepal is suitable for those who have dreamed to fly in the high sky similar to a bird. Ultra-Light Aircraft is a wonderful journey. Ultra Light Aircraft in Nepal was brought about in 1996, which is supposed to be the greatest way to face up to the wilderness of Nepal. This trip awards a matchless bird's eye view of the appreciated possession of Pokhara and is a fully exclusive method of adrenaline-exciting activity as contrasting to straight mountain flights by the use of a helicopter. Pokhara is the best destination which cannot be compared with other places as it offers a classic display of various natural atmospheres to ranges from immense Annapurna, Machhapuchhre, and additional white snow mountains with the amazing lakes like Phewa, Rara Begnas. Apart from lakes and mountains, you can take advantage of spine-chilling caves similar to Chamero Cave and Gupteswor Cave. The 30 minutes flight with a standard pace of 90km/hr to the close-up nearness of Machhapuchhre Mountain agrees to view close-up and hidden views of Fish Tail Mountain.
Ultra-Light Aircraft reshaped the mountain screening familiarity via a completely novel perspective. A greatly lighter air machine with seats for two persons, one for the pilot and the next for travelers, Ultra-Light Aircraft places distance from added conventional flying objects to gain a very close entrée to the mountains. The aptitude to depart the land at even tapering and off beaten tracks with further aircraft sense complicatedness in service allures nearly all adventure seekers to go for this trip. For Ultra Light Aircraft the suitable seasons are September to June.
Tourist Link Treks and Expedition will offer numerous schemes that are robust in your budget and are obtainable for Ultra Light Aircraft in Nepal. You can formulate an intelligent selection based only on your benefit. Tourist Link Treks and Expedition are considered the best-selling packages. Ultra-Light Aircraft in Nepal encompasses all the funs and the touch of adventure along with it. One should try Ultra Light Aircraft by arriving in Nepal where you will get totally new experience.
Day Trip: In the morning around 9 am or 10 am, we will pick you up from your Hotel and our drivers will drop at the station and you can fly for around thirty minutes or one hour. When you will flight you can see the High mountains such as Annapurna 1st, 2nd, and 3rd as well as another mountain. After finishing your Ultra Light Aircraft the driver will drop to the hotel.
---
---
What's included?
All ground transportation by private car
Entrance fee
Guide
What's not included?
All meals
Alcoholic/luxury drinks and Private expenses
Hotel Accommodation
Fixed Departures
Sorry, No fixed departure dates availabe, Please request for
Private Trip