Top 20 Nepali food you must not miss
1 Mar 2020 Tourist Link Trek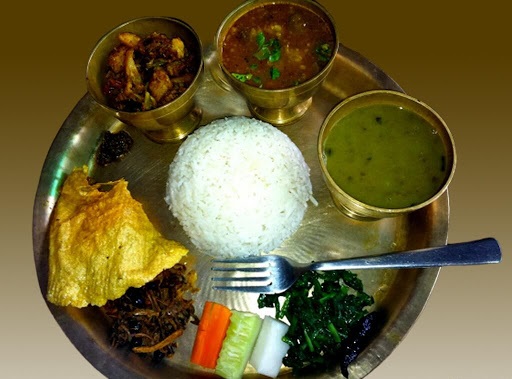 Nepal is one of the most diversified country in the world. This rectangular country is one of the most surreal land in the world. Divided into three geographic zone mountain region, hilly region and Terai region it shares border between Tibet and India. Different types of climatic zone such as tropical, alpine, termperate, subtropical and arctic exist here. Eight out of fourteen mountain above eight thousand meter lies in Nepal where it is home to 125 different indegeneous people who speaks more than 120 different language. For being located in the middle of two big civilization it is melting pot which is explictly visible in food. Nepali cuisine has big influence of these two civilization. Here we are discussing about Top 20 Nepali food you must not miss to try.
Momo: Momo is one of the most famous Nepali dish which is the kind of dumpling. Stuffed meat and vegetable is rollde by thin paper of dough which is steamed or fried served with different variety of home made sauce. Momo is so popular in Nepal however you can find momo restaurant easily. It is suitable for launch, dinner and snacks.
Dal Bhat: Dal Bhat is one of the staple meal from Nepal and south asian country which is a set of rice, lentil soup, vegetable curry, pickle etc. This gut filling meal gives energy for long time like famous saying Dal Bhat power 24 hour. Every Nepali at least once a day takes this meal and its one of the last resort meal if any Nepali is superhungry.
Roti Tarkari: Rot Tarkari is another staple meal from Nepal and Indian sub continent. Roti Tarkari is widely consumed in south of Nepal including big cities like Kathmandu, Pokhara, Butwal etc. This dish contains wheat bread served with lentil soup, vegetable curry, home made sauce and spinach curry. Many of the Nepali people takes this meal at least one a day.
Thukpa: Thukpa is basically boiled noodle soup mixed with various ingredient. Tomato, onion, cabbage, egg, meat, dumpling, carrot are mixed with plain noodle which is boiled and served. This dish is widely consumed in the hilly and mountain region during chilly winter days. Annapurana, Everest and Langtang region every where you can find it. This dish can be eaten as breakfast, launch, snacks, dinner, brunch anything.
Dhido : Dhido is thick pudding made up of either millet or barely. Water is boiled and flour is showered on the boiling water. It is battered with wooden spatula until it turns into thick pudding. Dhido is served with soup, pickle, vegetable curry etc. This food is widely consumed in the mountain and hilly region while it is getting popular in the urban area nowdays. It is easy to find the restaurant who is making Dhido. The name Thakali chulo or Thakali khana prepares this meal.
Naan Tandori: Naan Tandori are the bread baked in coal heated clay pot oven. This Naan Tandori bread are getting very famous nowdays. It is eaten mostly with lentil soup, vegetable curry, potato bean curry etc. Lumbini Tandori Dhaba restaurant are famous for this type of cuisine. It is widely popular across the country mostly in urban areas. You can try various kinds of Naan like paratha naan, minced chicken naan, egg naan etc.
Samosa Tarkari : Samosa Tarkari is another popular food in Nepal and south Asia. Samosa Tarkari two different food which comes together. Samosa is deep fried pastry which contains beans and mashed potato inside rolled and dip fried. Tarkari means vegetable curry which is mostly of potato and peas. Samosa Tarkari can be eaten as breakfast, launch, dinner, brunch and supper.
Chow Mein: Chow Mein is one of the most popular food across Nepal. Chowmin is fried noodle served with home made sauce or tomato ketchup. Dry plain noodle is first boiled and later it is fried with vegetable, meat, egg etc. Chow Mein is mostly eaten as snacks whereas it can be eaten as dinner, launch and brunch as well. Chow Mein is available in every fast food restaurant even in the very remote countryside.
Alu Chana Anda: Alu Chana Anda is another popular dish which is widely consumed across Nepal. This dish consists of boiled egg, potato curry and fried chickpea curry. It can be easily found in the fast food restaurant of city area as well as country side. It can be eaten as breakfast, snacks, launch, brunch and dinner.
Newari Khaja Set: Newari Khaja Set is one of the popular dish which was originated in Kathmandu. Newari Khaja Set is the set of food which consists of Chiura (Beaten paddy), Choila (Boiled and stuffed meat), vegetable curry, Beans curry, picklae, Bara (Bean flour bread), egg etc. This dish is available in the Newari restaurant. You should have to be courageous to eat this mouth burning spicy dish. It you are already used to with hot and spicy food you shouldnt be late to try this. This dish can be eaten as luanch, brunch, dinner and snacks.
Rest of the food are mentioned below with Name and picture.
Chatamari
Sel Tarkari
Yomari
Pani Puri
Kodoko Roti
Sherpa Stew
Paratha
Alu Chop
Andhikhole Arsha
Share this