Mausam Bishwakarma
Trekking Guide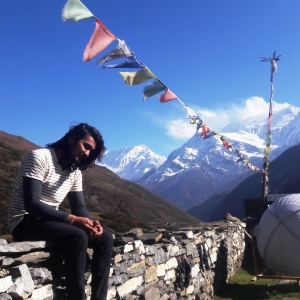 His name is Mausam Bishwakarma, He is a Mountain Guide working in Tourist Link Treks in Nepal. He has been successfully leading trekking and tours in the Himalayan & Cultural city of Nepal since long time. He has references from all his happy clients young and old almost every time they trek with him.
He would be very excited to be your tour guide and take you on some of the most beautiful trails in the Himalayas and cultural city. His main focus being to ensure your Holiday will be something you never forget, a once in a lifetime Experience! He will take you to those unexpected, secret local places, where you can enjoy your each and every moment in the 'real Nepal' taking Photographs and learning about Culture and Tradition of everyday Nepal. Get ready to explore the world's most beautiful, interesting and exciting places of Culture and natural wonders set against the majestic backdrop of the Himalayan range.
He just wants to enjoy and share with you his greatest love in Life, Nepal. Let him be your guide in treks and tours. Where do you want to go? What do you want to do, see, Experience? Or haven't got any idea at all what you want to do? Let us plan everything for you! Sit back, relax and let us do all the hard work!
What will it be?! Trekking or a quick tour? A week or a month? Hard trek or Easy trek? We can even celebrate the end of your stay with a good party at typical or Touristic place. He can recommend tasty local foods and show you his village where he grew up if you want to. Whatever you want to do on your trip He can make possible. He invites you to join him for a unforgettable & amazing adventure you will never forget.
If you want your Holiday with experienced local trekking guide, he will be so glad to organize your trip and himself will be your guide for city and mountains.