Hom Bahadur Bishwokarma
Founder and Chairman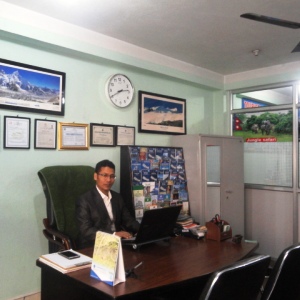 Mr. Hom Bishwokaram has been the managing director of Nepal's leading mountaineering and Trek Company. He was born in Nuwakot district of Nepal which is located north side from Kathmandu.
He has completed his graduate degree in Business Management, and since 2000 has been working in tourism. Having spent time as a fully trained tour guide for over six years, he has also been involved with training schemes for other tour guides and was successful in obtaining his license by the ministry of tourism for Nepal.
Having experience in many treks to Everest base camp, Annapurna circumferences, langtang, Mansalu and Mount Kailash as well as some peaks like island peak, Lobuche east etc. He is experienced in some of the most dangerous expeditions available.
Hom has also contributed his time, effort and finances for social work in Nepal. His goal was to open up an orphanage for children which he successfully did in 2014. When not busy working with Tourist Link Trek, he likes to spend time doing different activities like physical exercise and meditation, as well as teaching English to school children.